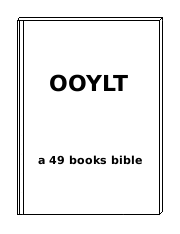 Audio Original Ordered Young's Literal Translation (OOYLT)
The wav files were created by eSpeak, a text to speech program. Then bash command, lame, was used to convert wav files to mp3 files. Please understand that the voice is alittle monotonous. Also unusual names and places may be mispronounced (e.g. Mt 1:1-15, Elijah).

Sorry, there will be no OT audio files unless the Lord provides financially (for web hosting).
New Testament
The Gospels
General Epistle
Epistles of Paul

All audio files are released under GNU version 3 license, a copyleft license. In a nutshell, the files are freely available, but if you improve it, you must make it available. eSpeak license is at http://espeak.sourceforge.net/license.html. GNU version 3 license is at https://www.gnu.org/licenses/gpl.html. Very technical details are at eSpeakNotes.txt (WARNING: this file is geek-speak).

OOYLT and YLT are public domain.

OOYLT was released January 2013.